Our Patron
Her  Excellency, the Honourable Dr Jeannette Young PSM, Governor of Queensland, is Patron of the Lady Bowen Trust.
The Governor ha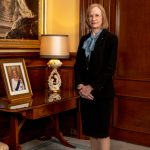 s a role in unifying and promoting Queensland and Queensland organisations by undertaking activities that assist, promote, encourage and recognise Queenslanders across a wide range of community interests.
The acceptance of vide-regal patronage from worthy organisations is the principal way this support is provided.
In her role as Patron of the Trust, Her Excellency will support the Lady Bowen Trust in raising the profile of the charity to help it meets its objective of providing support to people experiencing, or at risk of, homelessness, and to increasing community awareness of issues relating to homelessness in Queensland.